Use the below article to understand the storm leads that you may be generating and our suggested guideline on how those leads can be handled, which may differ than a retail lead.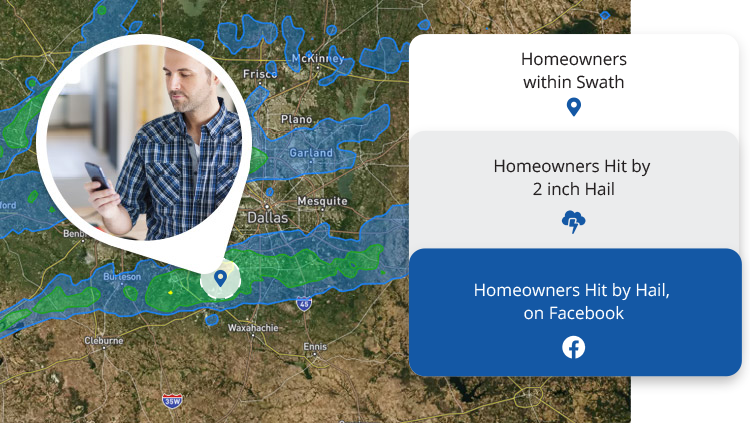 ---
What is the Value of Storm Lead?
When someone completes a storm report request, you know 4 key traits are present:
They fall within the storm you are targeting (within swath and geo area).
Identified as a homeowner that meets certain demographics.

They have seen your company's storm ads.

They have shown interest to learn how the recent weather events have affected their home.

The four items above significantly increase the quality of this contact but converting them to an appointment may take a different strategy than normal. Keep in mind, while they are qualified and have requested the damage report, they have not yet requested an appointment. So to get to that point, your follow-up should be done more conversational.
---
How Should I Handle a Storm Lead?
Since we know these leads present a need and an opportunity, making that obvious to them is very important and have prepared the below to help you do so.

Suggested Guidelines

Call homeowner within 30 minutes of lead submission
Leverage call script below to convert the lead into an appointment
If unable to make initial contact with the lead, send an email summarizing below script and call back daily.

Suggested Script

Hi Mr. or Mrs. Homeowner
This is [name] from [company name]
I saw that you recently requested an extreme weather report on our website and noticed that there was a [hail or wind] event in your neighborhood up to [inches or mph] on [date].

Do you have any questions about what the report entails?
Looking at the last 5 weather events, we actually see [insert additional activity].

With activity of this magnitude, there is a high probability that your roof or siding was damaged. If damage is present, your home may qualify for a replacement covered by your home insurance provider [or insert related promotion]

Our company specializes in restoration replacements and has completed over [number] of jobs covered by home insurance.
We would be happy to provide a digital analysis of your roof and siding. We will send out a design consultant to conduct a full inspection and they will take photos and videos of the damaged areas. After the inspection, the design consultant will meet with you to review the analysis and discuss next steps. If your home is eligible for a replacement, we will do all the heavy lifting with your insurance company
We have openings over the next couple days. What is a good day and time for you?
---
We do still suggest personalizing your script to your company and messaging. Remember, for the 3 reasons initially mentioned, these contacts are very qualified prospects so converting them now and/or adding them to future rehash programs will help you get the best value out of these very low-cost leads.